Wow! What a fantastic stay! We really liked your story and what you are achieving with the farm.

Visitors' Book July 2023
See pictures of our rooms.
Our current Shoulsbarrow Farmhouse is over two hundred years old built on the site of the original farmhouse, and, in fact, built while the original one was still standing, as it wasn't until the early 1960s that it was bulldozed. It is still referred to as Shoulsbry or Shoulsbury by the locals. We know that the Dallyn family lived here continuously for 250 years until the 1950s, having left before the original farmhouse was bulldozed.
Our farmhouse circa 1900.
There was a big change at Shoulsbry in the 1990s when a business man from London bought this farm, along with other dwellings in the village, and about 2000 acres of land. He had plans which had been inspired by the Knight family of Simonsbath to create a huge estate complete with a French style chateau. He had some bad luck financially and the project collapsed leaving our farmhouse, the farm cottage next door and enormous walls built of stone from Cornwall. Oh yes, and a working fountain in our yard up by the barn which was going to be the centrepiece of the 'Versailles' type walled garden. Numerous outbuildings around the house and hedges and trees had been cut or knocked down. Subsequent owners did much work to make the house habitable.
When we purchased the property in 2013, it had not been lived in for several months, there was little heating, problems with the water supply, lack of fencing and gates on the land and many other issues too numerous to mention. Nevertheless, our delight at living here has given us the impetus and strength to gradually make this wonderful old farmhouse a very comfortable home.
We know a local 'Dallyn' man whose father and uncle were brought up here, and he used to visit when he was younger. We were lucky to meet the youngest of his uncles before he sadly died in 2017 and we are in touch with his widow who has visited us.
We enjoyed the relaxed atmosphere, the beautiful house and quiet surroundings and, above all, the very pleasant and warm host couple. We will remember you.

Visitors' Book July 2022
On arriving here in December 2013, our first objective was to make sure our livestock were safe and secure and we managed to organise temporary housing for everything apart from the sheep, which was good as for the first eight weeks it did not stop raining… or at least that was what it felt like. Christmas Day and Boxing Day that year was spent taking down a flower bed outside the dining room as it was higher than the floor inside and so was not helping the damp situation. The house had not been lived in for a while and we had numerous issues with lack of water and heating for nearly eighteen months, combined with various other concerns and equipment that went wrong, needed replacing or just were never there, such as a chimney flue and loft insulation. A programme of refurbishment and improvement is always on-going! A good sense of humour has helped us through combined with jolly hard work. Amanda is documenting everything that has happened and this will be available in the farmhouse for you to read at some point, if interested in how we have developed the property and all the challenges we have had to contend with. She just needs some time to dedicate to writing it!
Our farmhouse circa 2021.
So now, with wonderful views from every window, we offer a traditional farmhouse B&B with all that you would expect from that. Breakfast of home grown and local produce is taken in the former dairy now the dining room. We are a small working farm and we keep only rare and traditional breeds of livestock. They are kept for food, showing, improving the breed and fun and we would be pleased to show you around. We keep Golden Guernsey and English Goats, Llanwenog, Herdwick, Shetland and Exmoor Horn sheep, Hereford Cross cattle, Gloucestershire Old Spots pigs, and a variety of geese, turkeys, ducks and chickens, two cats and two dogs.
The dogs, Betty and Elfrida, will give you a warm welcome and they will always bark to let us know anyone is about, but they are very friendly and will soon calm down.
In addition, we have three Exmoor ponies, one brought with us from Wiltshire, purchased from Adam Henson, and two that arrived in January 2022 from an old herd on the moor, Knightoncombe. This breed is still rarer than the Giant Panda. Also a rarity, we have a Suffolk Punch mare who we try to work on the farm.
We are gradually developing our fruit and vegetable garden. No mean task up here as, apart from the windy weather, there is no topsoil and so we cannot dig down but have to build up. We aim each year to provide ourselves with as many vegetables as possible and to provide the fruit for all the jams and preserves on the breakfast table.
We are open all year and we want you to appreciate the comfort and peace and quiet here from sitting outside soaking up the sunshine and views to sitting in front of a roaring log fire on a cold winter's day or evening. Partly to this end we have no televisions in the farmhouse. WiFi is available, but please be aware that this is a rural area and may not be brilliant in every room. There are plenty of board and card games provided in the front room for your use. Whilst we make every effort to keep the house warm, this is Exmoor and we are over 1000ft above sea level and it is nearly always windy, so packing an extra jumper/layer of clothing may be advisable.
There are two double rooms with en-suite with a third room where guests could share an en-suite of one of the other rooms or use the bathroom and a shower room on the ground floor. Most establishments name their letting rooms and we are no different as it helps us know what rooms we are talking about.
Tipperary, named after the county where we spent our honeymoon, is at the back of the house and has a side window with a view over part of the garden and our fields.
Kilkenny, named after a lovely town we went to on our honeymoon, is at the front of the house and looks out over the front garden, several fields of ours and a neighbour's field.
You can also see our large barn from here.
The front room and dining room are also available for guest use.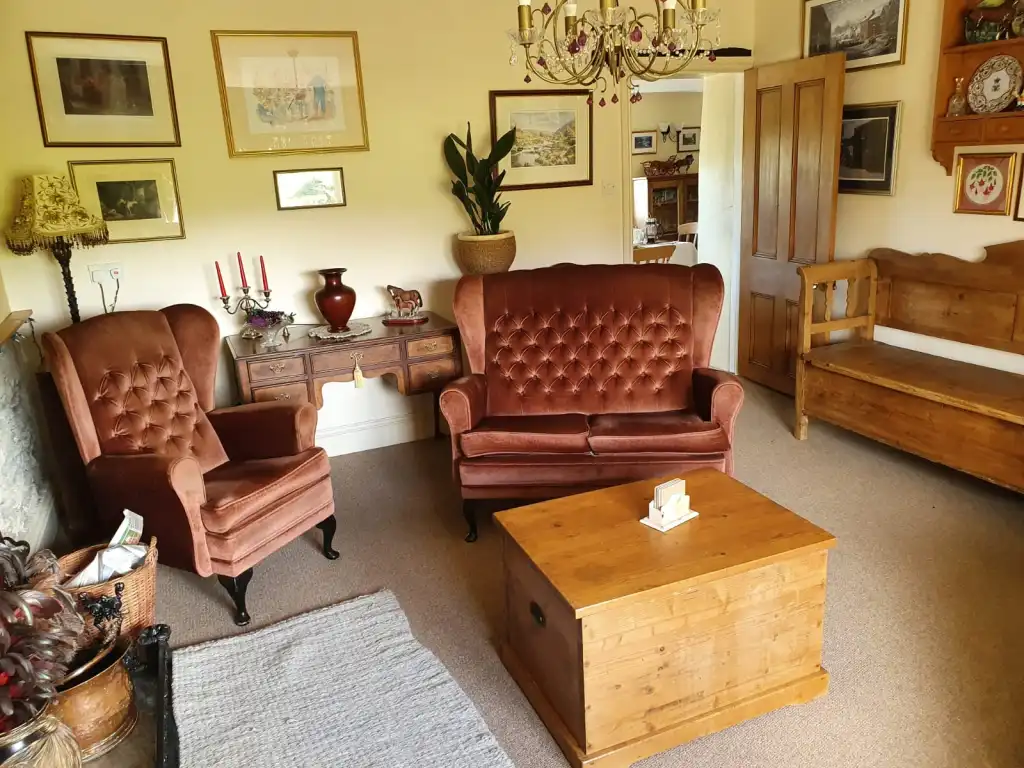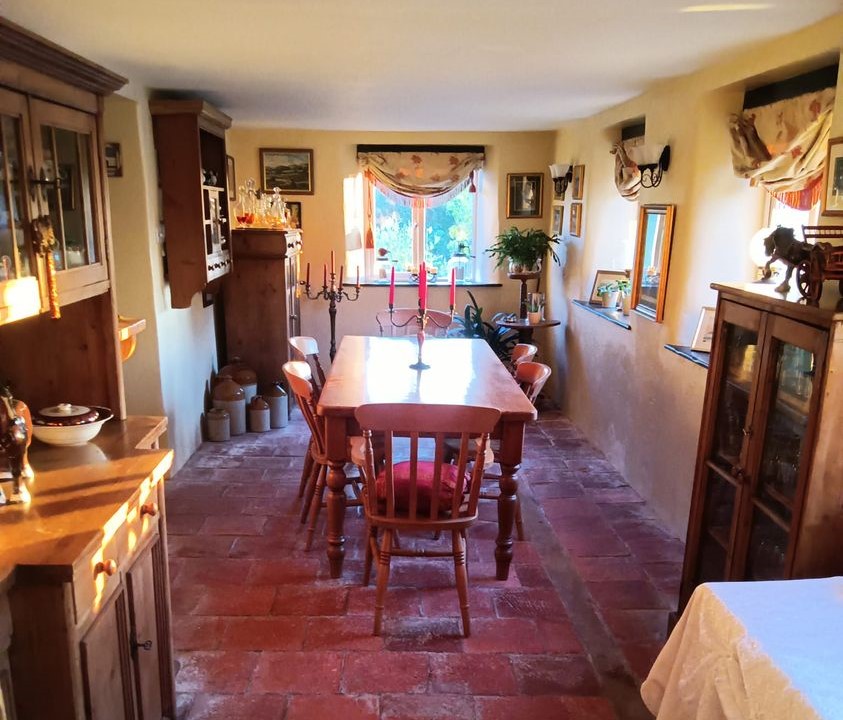 2023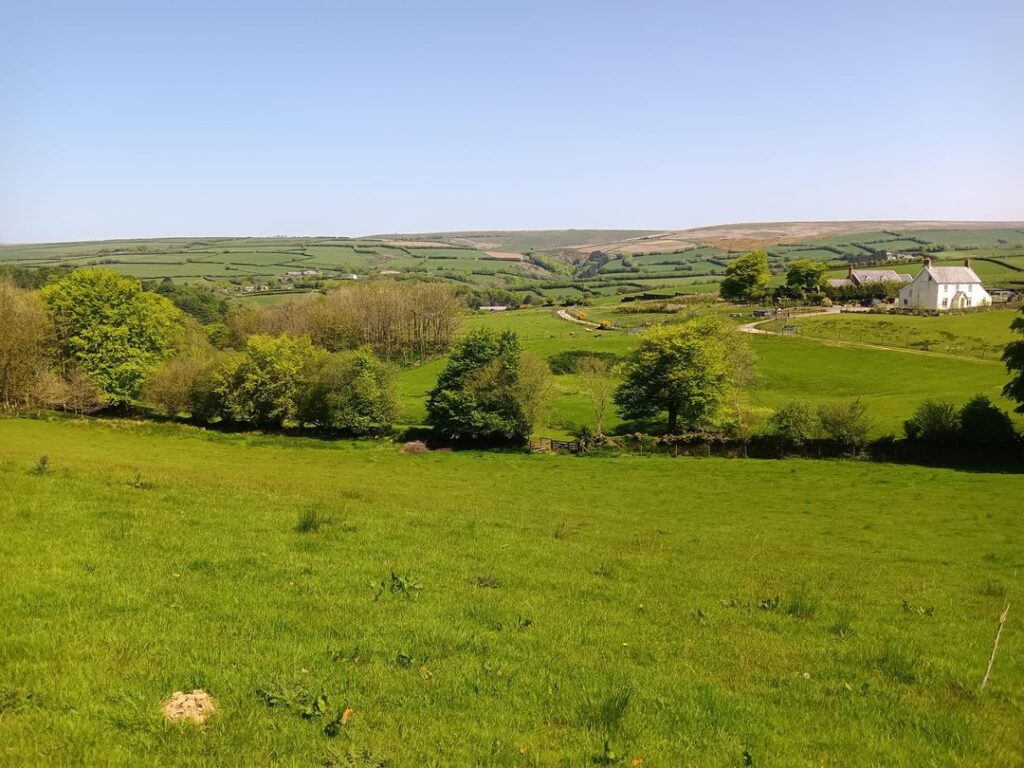 We love working from home.
There's always plenty to do on the farm.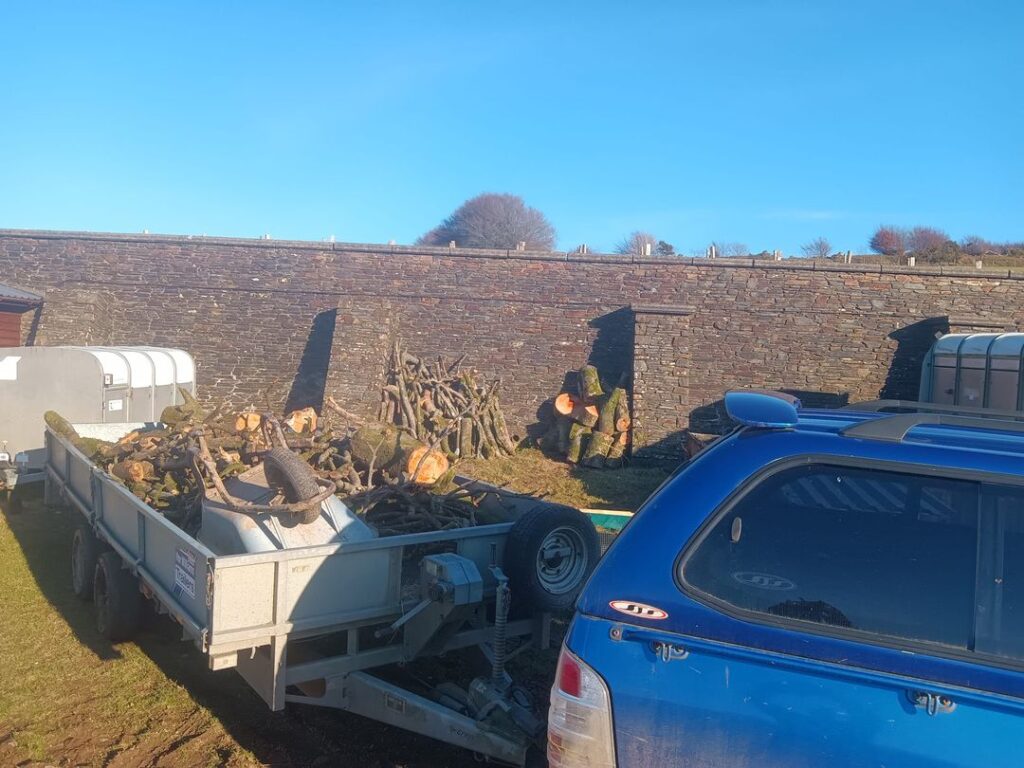 We have seen some beautiful skies over Shoulsbarrow this year.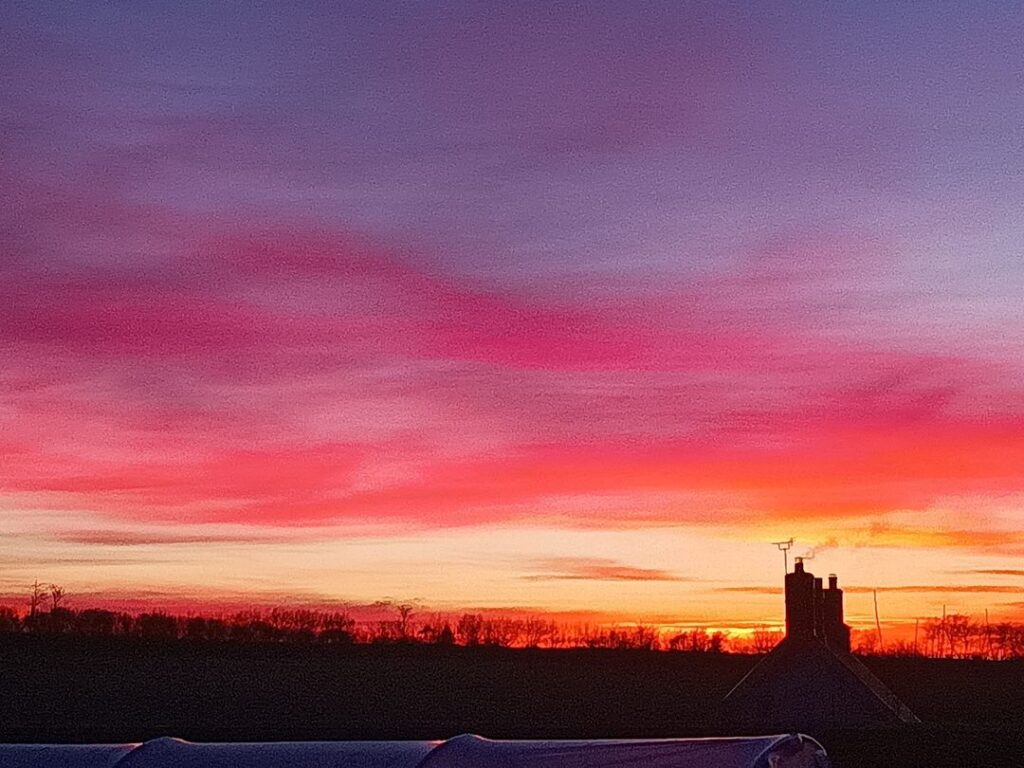 In September we undertook some long-waited building work to continue improving the farmhouse.