Lovely house and lovely people. We spent two peaceful days in this heaven. Special mention to the delicious breakfast.   

Visitors' Book October 2021
Breakfast of home grown and local produce is taken in the former dairy now the dining room.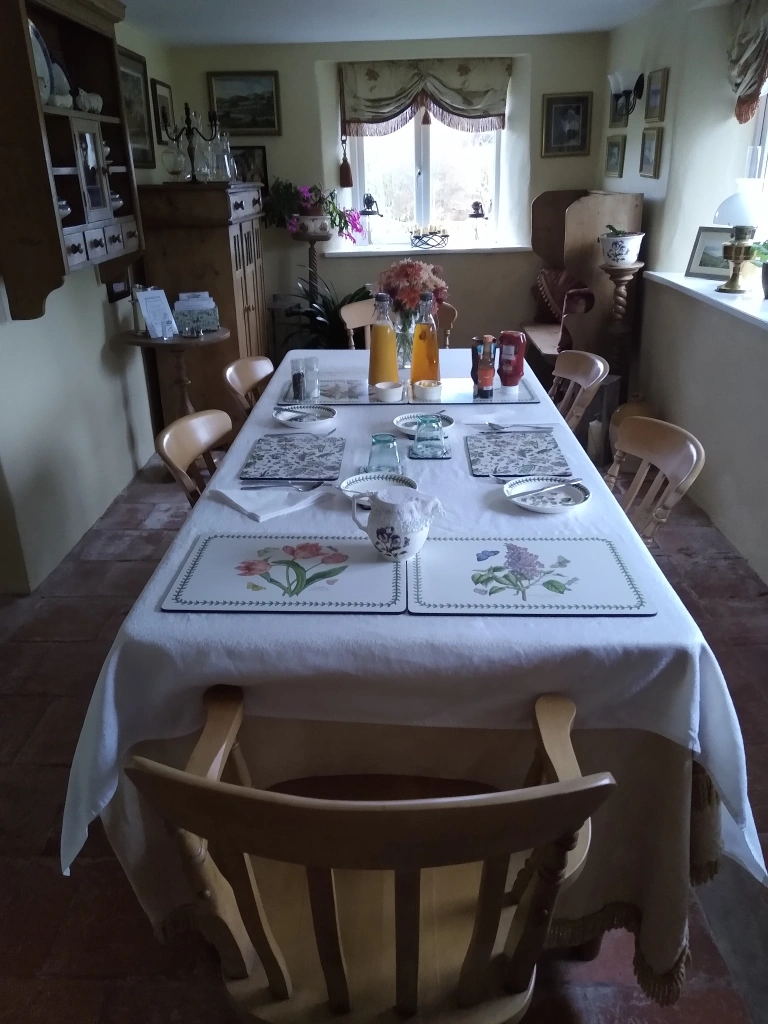 It is therefore the coldest room in the house and so you may find the heating on in there early in the morning to warm the room up for you.
The breakfast we offer is of traditional farmhouse fare– fruit juice and tea or coffee to drink with a first course of a choice of cereals.
If you would like a cooked breakfast, we can offer sausages, bacon, egg, mushrooms, tomato and baked beans; we call this our Shoulsbry breakfast and of course you can choose any combination of these. The sausages and bacon come from our own Gloucestershire Old Spots pigs reared here on our farm and the eggs are from our chickens and ducks. There is always brown or white toast; the bread is homemade by Gary.
Wonderful hosts, accommodation and scenery. Best breakfast ever – everything done to perfection. 

Visitors' Book September 2021
Toast after your cooked breakfast is served with a choice of jams or preserves, all of which are homemade and some with homegrown fruit, too.
All hot breakfasts are cooked to order so please be advised that there may be a short wait.
Packed lunches and evening meals can sometimes be provided if we have advance warning. And of course there is always that welcome pot of tea/coffee on arrival while you take stock of your surroundings.
We are happy to cater for a wide range of dietary intolerances or allergies and preferences but appreciate prior warning via our booking form please.
As ever Gary and Amanda give the warmest of welcomes and make our stay truly memorable. 

Visitors' Book July 2021
Allergens
All cakes, bread, cereals and pastries contain wheat and gluten unless we have specifically made or purchased gluten free products, if we know in advance that guests are gluten intolerant. At breakfast our pre-packed cereal boxes are purposely put out so that guests can look at the information provided on them. We also have a list of all ingredients and allergens found in all the food we provide – please ask if you need to have a look at this.